We were not disappointed this Christmas. Many of the gifts under the tree for our mom were in fact doll clothes! It's funny: Mom got more clothes for us than she got for herself. She assured us she doesn't mind a bit. Without further ado, here are the promised photos and some commentary on each new item:
Lily needed a riding jacket, but it was too hard to find one by itself on eBay. So, now we have an extra hat, an extra pair of breeches, and some dark brown cowboy boots. They might come in handy if any of our cousins want to go riding. Note: the boots in the picture are actually Felicity's black ones, not the cowboy boots that came with the oufit. The cowboy boots looked silly paired with an English riding ensemble.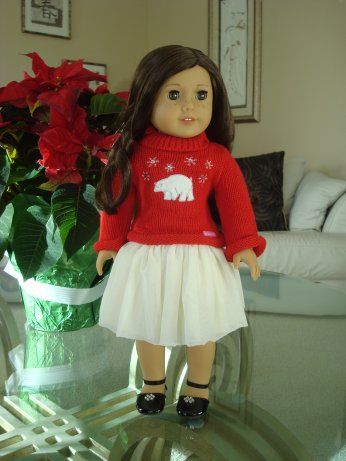 Polar Bear Sweater from AG
This is super cute and super cozy, plus it goes great with our off white skirt. It also came with a fuzzy headband not shown. (I didn't feel like screwing up my hair putting it on.)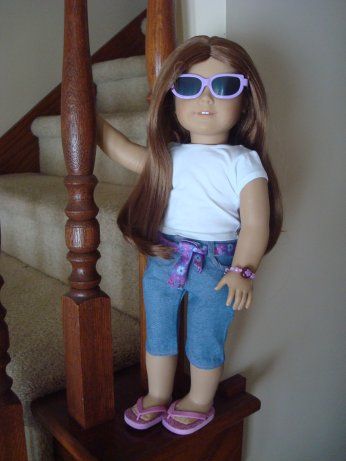 Tee and Capris Outfit from AG
These capris are awesome, and the plain white tee will come in handy. The outfit also included a fun, stretchy, Hawaiian-looking bracelet, cute pink floral print flip-flops, and lilac shades. Oh yeah.
We'd call it more "rose" than "raspberry." It goes great with our gray sweat pants. Lily reports that it's super comfortable.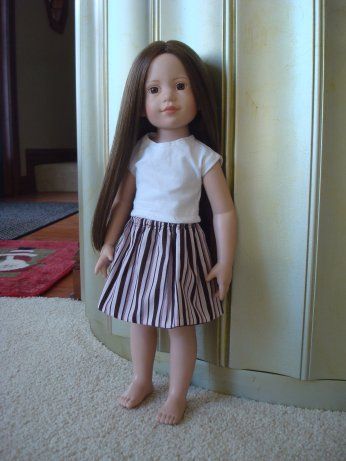 Mix & Match Set for Julie
This set includes 2 skirts, a pair of brown pants, and a plain white t-shirt with a boat-style neckline. The striped cuffs on the pants can be tucked out of sight if Julie's wearing shirt that would clash with them. Only Julie is slim enough to wear the pants and tee. But beware, Julie, us AGs may be able to fit into the skirts!
This is like the perfect dress for Julie. It fits her perfectly and looks fabulous on her. It even came with a matching ribbon that works great in her hair. Mom found it on eBay, and Grandma bought it on the sly. No other doll anywhere will ever have a dress just like it because it's homemade.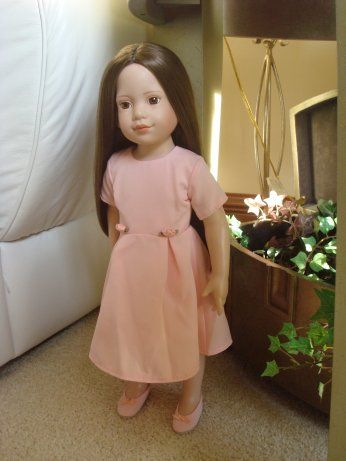 Petal Pink Gown and Slippers from Carpatina
This elegant pink gown looks striking on Julie. It is made out of a light, flowy fabric and has 2 pretty rose decorations at the waist. It was intended for Carpatina dolls, which are quite similar in size to Julie but are shockingly expensive. Don't worry, Grandma didn't pay anywhere near full price for this outfit.
Thanks, Grandma, Mom, and Great Aunt R.! We love all of our new outfits! <3